silane coupling agent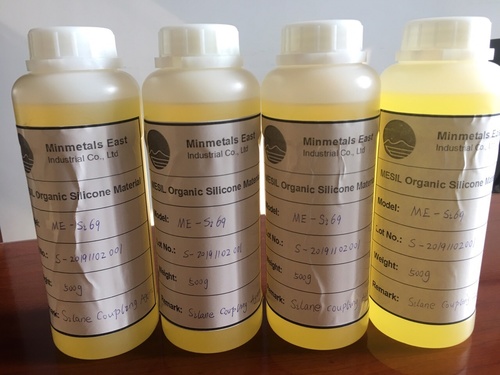 silane coupling agent
Product Description
n ME-Si69 is a kind of multifunctional silane coupling agent that has been used successfully in the rubber industry. It is used to improve physical and mechanical properties of vulcanizates.
n It is able to markedly improve tensile strength, tearing strength and reduce compression set of vulcanizates. In addition, it can reduce the viscosity and improve the processability of rubber products.
n ME-Si69 is especially suitable to improve the reinforcing properties of fillers that contain hydroxyl groups in all unsaturated polymers having double bonds or their blends. Silica, talc powder, mica powder and clay can be used in combination with ME-Si69 in polymers such as NR, IR, SBR, BR, NBR and EPDM.
n Also use in tyre industry ,PCR tyre ,TBR tyre,Bias tyre etc.
Contact Us
20th Floor Business Building, Renmin Road, Jiaozuo Jiaozuo Henan China 86-391-3565625
Phone :+8615037173445